Ghostwhisperer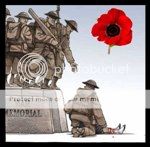 Joined: 01 Oct 2008
Posts: 3799
Location: Ross-Shire
Posted: Tue Nov 16, 2010 1:30 pm

Post subject:

---





Ross-Shire Journal 12/11/2010



THE sacrifice made by two young Ross-shire soldiers killed in action and the devastating loss endured by their families has been officially recognised at a poignant medal ceremony in Dingwall, decades after their untimely deaths.

The trailblazing event - the first of its kind in Ross-shire - was described by the Queen's representative in the area as "very special and emotional".

Private Allan MacMillan from Evanton was just 18 and had only been in Northern Ireland for about 48 hours when he was fatally wounded by a terrorist bomb in July 1979.

Fifty-eight years ago, 20-year-old Private Andrew Newlands from Kildary was accidentally shot and killed by "friendly fire" on his last patrol in the Malayan jungle days before he was due to finish his National Service and return home.

The tragic circumstances of their deaths were read out in Dingwall's Council Chamber last week when the families of the two men - who died a generation apart - became the first in Ross-shire to receive the Elizabeth Cross.

The Elizabeth Cross is a new award created to provide national recognition for the families of service personnel who have died on operations or as a result of terrorism.

Andrew's older sister Nellie Barrie from Alness and Allan's younger sister Christine MacMillan from Dingwall were presented with the crosses and memorial scrolls by Lord Lieutenant Janet Bowen last Wednesday.

Both women were touched by the emotion of the occasion and said they were proud that the loss of their brothers had been honoured and acknowledged after all this time.

Christine of Buchanan Court was just 15 when she was told about the death of her eldest brother, who died from the injuries he had sustained the following day when an IRA bomb exploded in Crossmaglen's market square. His tragic death in the summer of 1979 came only a few days into the 1st Battalion Queen's Own Highlanders' deployment, which was his first tour of duty in Northern Ireland.

According to the citation read out during the ceremony by Major David Harvey, Allan hadn't been long in the regiment but was already a promising and popular member of the battalion. Christine told the Journal afterwards, "Allan was the type of person who would do anything for you, he would go out of his way to help other people. He was the first one to stand up on a bus to give someone else a seat."

She said the award ceremony was a very proud day for the whole family, especially for their mother who wasn't able to attend, and she hopes it encourages other Ross-shire families who have lost relatives in similar circumstances to apply for the Elzabeth Cross.

Nellie Barrie of Hill Terrace plans to wear the Elizabeth Cross she received on behalf of her brother, Andrew, to this weekend's Remembrance Sunday.

Nellie, who is his only surviving sibling, clearly remembers the day she waved him off from Inverness station more than half a century ago and did not imagine for a minute that it would be the last time she saw Andrew.

As part of his National Service, Andrew was carrying out vital jungle patrols during the Malayan Emergency when he was accidentally shot on April 17 1952.

He was originally a Seaforth Highlander, but was transferred to the Gordon Highlanders while out there.

"He was a nice brother, a really lovely brother to have," said Nellie.

Mrs Bowen told the Journal the awards to the two families were the first she had presented in Ross-shire and described the ceremony as a "very special, emotional" occasion.

During the ceremony she made an opening address, saying that taking part in the ceremony was a huge privilege.

"This presentation ceremony is an important occasion. We are not gathered here to bestow a posthumous medal to the fallen, we are here to present their families with a tangible national recognition in acknowledgement of their tragic loss and sacrifice."